I rode a 600km brevet last weekend.

The brevet started from the Toronto area so I had to travel to Toronto on Friday, a 6hr drive from Ottawa.

My friend Alain from the Montreal Randonneurs was also there, he rides a Carbon Quest.

I was up at 4AM; I could not sleep well and was on my way to the start line by 4:45AM.

The point of departure is a Tim Horton's (a doughnut Shop popular in Canada) open 24/7 about 5km from my hotel.

Since I was early I had a coffee and bagel while waiting for the others to arrive.
The weather forecast is nearly perfect; it will be sunny with a maximum of 26C but it is very humid at the moment. At 6AM we were 4 brave souls leaving for this big adventure.

Alain and I decided we would follow each other.

We had the same goal: finish within 24hrs.

The first 10km or so are very urban with a lot of traffic signals so we have to stop often.

Once we escape the city, Alain and I move ahead and we alternate who is leading constantly.

I soon find that I have very tired legs and wonder if I can complete this 600km ride.

Over the past few months, I have been doing a lot of home renovations, often working on my hands and knees and my legs have been feeling heavy and while I rested before this ride, I think this work has taken its toll.

After a bit of time, the best I can do is to keep up with Alain.

The route starts with a fair amount of climbing, nothing very long but it is constant, most of it 1 to 2,5% but a surprising amount of short and steep hills.
I did not realize that the route takes us through Mennonite country but soon we see horse carriages on the road.

This is an issue when riding a velomobile because some horses get spooked at the sight of a velomobile so you always have to be careful when meeting or passing them.

I had this experience in Amish country while riding in Pennsylvania.
I keep looking at my bike computer and I find that the distance is not increasing very fast.

At least the scenery is nice with a lot of farmland and country homes to look at.

By the time we get to the first control, my legs already hurt and I mention this to Alain.

After a while, I decide that I will need to take something for the pain or else I will not be able to make it.

I am hanging-on and follow Alain, sometimes he's 500m or so ahead and I try to stay not too far.

After a few hours, I take another dose of painkillers and I start to feel better.

All of a sudden, the ache goes away and I take the lead.

At the next control Alain says that he wants the same thing I took because I'm leaving him in the dust, he can't keep up!

A few days ago I adjusted my rear derailleur and the shifting was working great, now I'm starting to have some shifting issues; I have problems when on the large ring, I cannot shift properly on the two biggest cogs.

This means that I have to be careful when climbing a hill, I need to shift to the smallest ring early not to be stuck on a big gear but it is very manageable.
I had made a plan for the ride and we are doing fairly well, we are approaching the mid point and we're tracking well to make it within 22hrs if we don't have any issues.

Just before arriving at the mid point, the traffic on the road is getting very heavy and we have a few hotheaded drivers who pass very close, I let Alain take the lead.
A few kilometers before the third control,
I'm about 100m behind as he's going down a hill. As I make it to the crest of the hill, I see the red Quest slide across the busy road and go into the ditch. Luckily the vehicles in the other lane saw it happen and stopped in time. A few seconds later I arrive at the scene. Alain is bloody, he has road rash as his arms came out of the cockpit. He extracts himself even before I get out of my velomobile. Interesting fact, his helmet was not even scratched.

The Quest also has serious road rash on both sides as well as scratches on the top of the nose. I think the Quest slid on one side then the other but did not overturn. It will need serious repair to the shell.

I sent the rider to the hospital, he was checked out by a doctor and he's OK but it could have been fatal... I was thinking of that all night as I was flying down hills in the middle of the night at 80 - 90km/h.
I make it to the third control a few minutes later and get water and drinks at the local grocery store; I will have to finish this one alone.
By now it is late afternoon, I've lost a bit of time but I should be able to finish in 23hrs.

I start the next section next to Georgian Bay, where I can see the bay and nice homes on a quiet road. Shifting is a bit of a pain; sometimes I do not have access to all the gears.

Soon the sunsets, I'm fighting more with the shifters to go from the small ring to the big.

It is pitched dark outside, there is a partial moon but some clouds often cover the moon, there are very few streetlights.

The B&M lights on the DF provide good lighting and I can see the road fairly well, much better than in my old Quest.
I pass another control, in a very small town the convenience store is closed but the bar is open, I get the barmaid to sign my card and before leaving, I have more to eat.

I'm still OK to make it within my 24hr goal.

I leave the control.

There is a long section of road under repair, the roadbed is covered in crushed stone with a few hills to climb, I have to climb very slowly in order not to spin the back wheel.

After 50km, I cannot get the front to shift to the big ring.

I stop but in the dark I can't see any problem with the front derailleur so I have 8 gears, I do not have my two biggest cogs.

This is a pain because it limits me to a max speed of 40km/h before I would spin-out.

When there are rolling hills, I cannot accelerate to pass the next hill without slowing down much so the last bit is usually a slow and sometimes difficult climb because I cannot go down to my first gear.

My ankles are starting to hurt, as I have to spin so fast then push hard at every hill.
I encounter a road closure, I have to detour but it does not change the route by much.

Now I get to the last control but I have lost a lot of time, it took me 4 hours to cover 100km.

Even at this pace I think I can make it to the finish in 24hrs.

I have a quick coffee, muffin and painkiller for my ankle and legs, I do not waste any more time at the control.
I leave the control and encounter another detour, it takes me a few minutes looking at my GPS to see the alternate and shortly after I find my route.

The idler is now making noise, it is pitch dark, I can't see anything, I try to push the chain down to the idler but I can't seem to get it unstuck.

I have to continue.

After riding for a while I'm getting tired and I decide to find a spot by the side of the road to have a micro nap (15 to 20 min).

When I wake up I feel better and I can continue. The noise of the idler is annoying and now I can shift about 6 gears.

After about another 30km, I get to an intersection and I can't pedal anymore, I stop and see the chain tube is stuck in the front derailleur.

After a while I'm able to pull the chain tube, How the heck is it attached to the velomobile?

I can't remember seeing how it was attached before.

I have one big tie-wrap and I notice that there is another tie-wrap on the ground so I use both to attach the chain tubes together with my tie wraps..

I try to push the chain under the idler but it is not working, I can't see very well, I'm tired so I have to continue and hope for the best.
There is no way I can make it within 24hrs now, lets hope I can finish without a full breakdown.

The road goes up and down, there is a lot of climbing on 1 to 2.5% grades, I have to work hard to keep my speed, the idler is robbing me of my efforts.

Every hill is a struggle, my ankles hurt, I always have to spin-out then force my way up these hills.
I'm determined to finish, I had a breakdown last year during the 600km brevet and I want to finish this one, I want to get my Super Randonneur and this 600km is the only thing I'm missing for the series.
I finally make it back to the finish in 26hrs, it took me over 6hrs to complete the last 100km of the ride, my legs are very sore.

I returned to the hotel to have breakfast and a rest for a few hours before returning home.
Now I see the damage made by the chain, I will need to find a solution.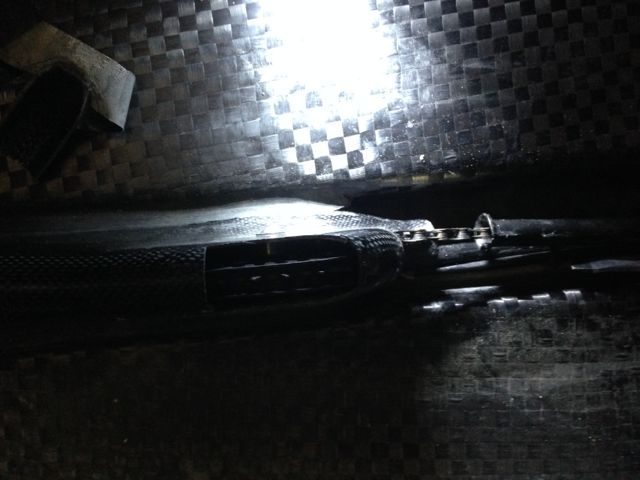 While the DF is a very capable velomobile for brevets, probably one of the best currently on the market, in particular it provides very good speed and road handling.

On the other hand there are some improvements that could be made to further improve it in particular by making it more reliable and easier to service especially while on the road.
Tupbikes
Would you like to have carbon aero wheels for your velomobile? Chinese manufacturer Tupbikes sells a carbon rims for smaller sized wheels including 406 (20in regular velomobiles) and 349 (16in Pedal Prix).
Tupbikes makes a 406 sized, 320g wheel that is 30mm available in 28 hole configuration for Shreader or Presta valve.

It is compatible with tires 23 to 37mm width.

Price is not indicated. These being new, it is not clear if there is an advantage to using these rims in a velomobile as the overall weight difference is negligible and if they can withstand the lateral loading of a heavy three wheel vehicle.
WHPVA World Championships
The WHPVA World Championships took place last weekend
in Maasmechelen, Belgium.

Information on the results of the races is not very abundant and unconfirmed.

Apparently the laptop used for timing of the 1km race was stolen so the event was cancelled.

Overnight thieves also made out with hay bales used to protect racers on the course.
Paris Brest Paris
DF velomobiles did fairly well at PBP apparently four of them finished under 70hrs.

Results are posted here http://axel-koenig.com/results/pbp2015

Apparently Ymte was the first to finish in a velomobile and he rode from Dronten to Paris and then rode to the WHPVA championships where he won an event.
Marvelo
Jon at Marvelo has posted pictures and video of the first production SKR on the road http://marvelomobile.blogspot.ca/.
Close Call Database
Some cyclists in Maryland formed a group called the Community Project for Safer Cycling and they have launched a website

to report close encounters with vehicles.

The site is called the close call database, http://closecalldatabase.com/ here are the stated goals for this site:
"Drivers that are hostile to cyclists are often serial offenders. Cataloging their aggression and documenting their hostility towards cyclists provides important information to fellow cyclists, local police and prosecutors. When you record an incident here, it will be shared with cyclists in your area. When other cyclists report an Incident, it will be shared with you. When problem drivers are identified, this site will contact police where the Incidents have occurred so that they can intervene before another tragedy occurs. If that same driver does harm a cyclist at a later date, the information in the Incident Reports will help ensure that justice is served."